SPECIAL OFFER: Get 20% OFF On All Orders. Use Coupon Code BOLT20.
Achieve More With Bolt Coffee Shots. Helps You Stay Active, Alert & Energised Throughout The Day
"It's my first coffee shot early in the morning as it opens my eyes, my body and my mind in a few minutes. It gives me tons of energy" - Nupur Salaria, Athlete, Bolt fan since launch
Try Bolt Today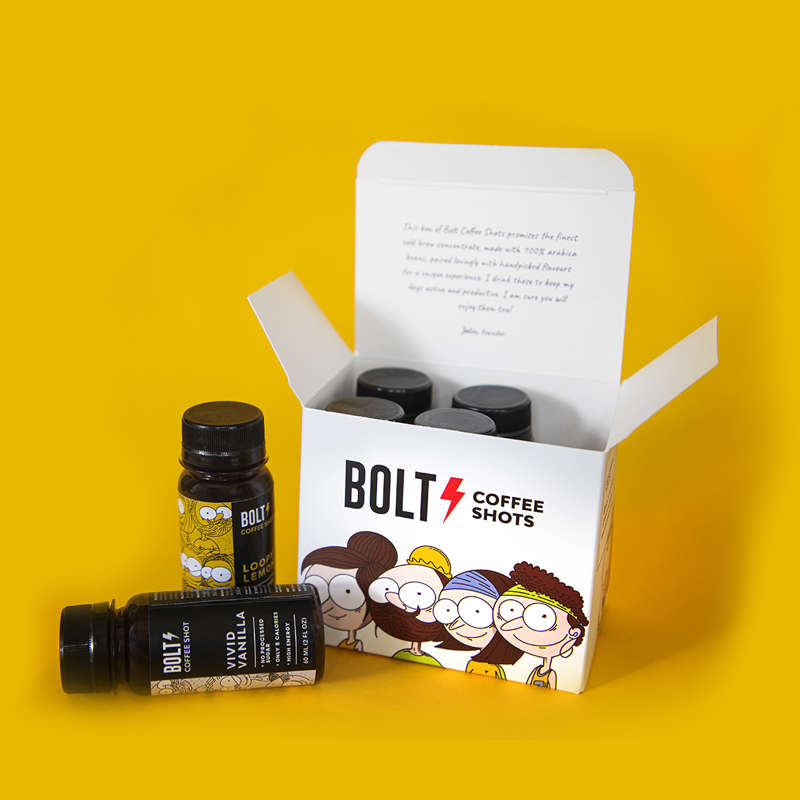 Ever felt tired or exhausted in the middle of the day? Craved for a nice cup of freshly brewed coffee… minus the extra calories, the hassle of going to a coffee shop, carrying a big cup around or just brewing one yourself.

Well then, this one's for you. Pure, cold-brewed black coffee in a flavour of your choice!


Try the all new and pocket-friendly Bolt Coffee Shots that give you 4 hours of a non-stop, healthy and tasty caffeine kick at just INR 45!! Be one of the first few coffee-connoisseurs to try them out!

SPECIAL OFFER - Get 20% OFF On All Orders. Use Code BOLT20
TRY BOLT TODAY


0 Calories per bottle… guilt-free pleasures can't get any better!

No added sugar versus heaps of it in artificial energy drinks and has the same amount of caffeine to help you win the day.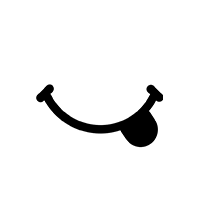 Bolt shots come in 7 Flavours… some of which are probably being produced for the first time in the world - like the Coffee Toffee shots that are making the old school coffee pros go crazzzyy!

With 85 mg of natural, plant-derived caffeine in every bottle, you don't have to look any further.

In more ways than one. Bolt Shot come in a spill-proof container that fits into a pocket and actually costs less than a cup of regular coffee…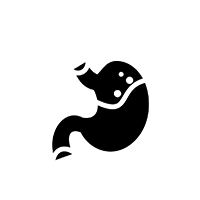 It's just real good coffee in still water and that's it. No gas or the sick burps that one gets after having a can of carbonated energy drink.
SPECIAL OFFER - Get 20% OFF On AllnOrders. Use Code BOLT20
TRY BOLT TODAY
A HEALTHIER, SAFER & BETTER ENERGY DRINK ALTERNATIVE, HOME DELIVERED!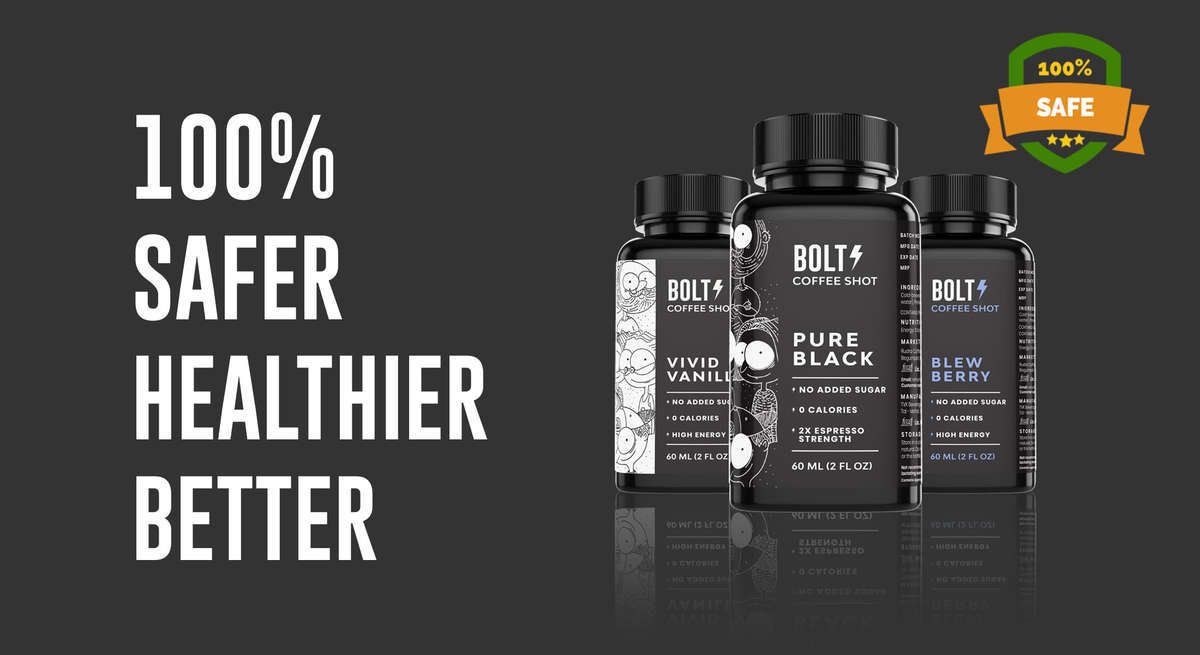 In these times of social distancing, it is absolutely important for us to be safe, healthy, fit and with a stronger immune system than ever before.

Bolt Coffee Shots are made at world-class manufacturing facilities with utmost care and importance given to hygiene. Bolt is a 100% contact-less brewing process. That isn't it, the benefits of ordering Bolt online are many, like:
No need to carry mixing bottles/shakers like for protein drinks
Can directly consume Bolt Coffee Shots from the handy leak-proof bottle
Can avoid visiting public stores as Bolt Coffee Shots are home delivered
Ease of use, fits in your pocket - drink it anytime, anywhere
Bulk orders now accepted, order a pack of 30 & save up to 20%
Better mental focus & physical stamina from the natural caffeine in Bolt Coffee Shots


So what exactly is a flavoured coffee shot?
Coffee shots or pure-black freshly brewed espressos have been a way of life in the West; whether it was to just get through a long and challenging day at work or as a 0 calorie energy shot before hitting the gym or even to just enjoy a good, small shot of caffeine at any time... because why not??
And eventually, like with every kind of a good high that makes life easy… the coffee loving pros started experimenting with their shots. Some had it Gin, while others with ice and a dash of lime and then a million other variations later… Flavoured coffee shots are a RAGE all over.
And we thought why can't coffee lovers like us in India, enjoy a shot of super smooth, freshly-brewed and handy shots of flavoured coffee? And tada! That's really how our widely-loved range of Bolt RX+ cold brewed coffees in a nice heavy bottles evolved into these cute little tiny flavoured shots of pure caffeine bliss!

You can drink it straight up from the bottle, or add some milk and sweetener as per your taste.

SPECIAL OFFER - Get 20% OFF On All Pack Of 12 Orders. Use Code BOLT20
TRY BOLT TODAY
And just so you know… this is how the Bolt Flavoured Shots slay the natural energy Vs. calories intake Vs. artificial ingredients Vs. acidity game: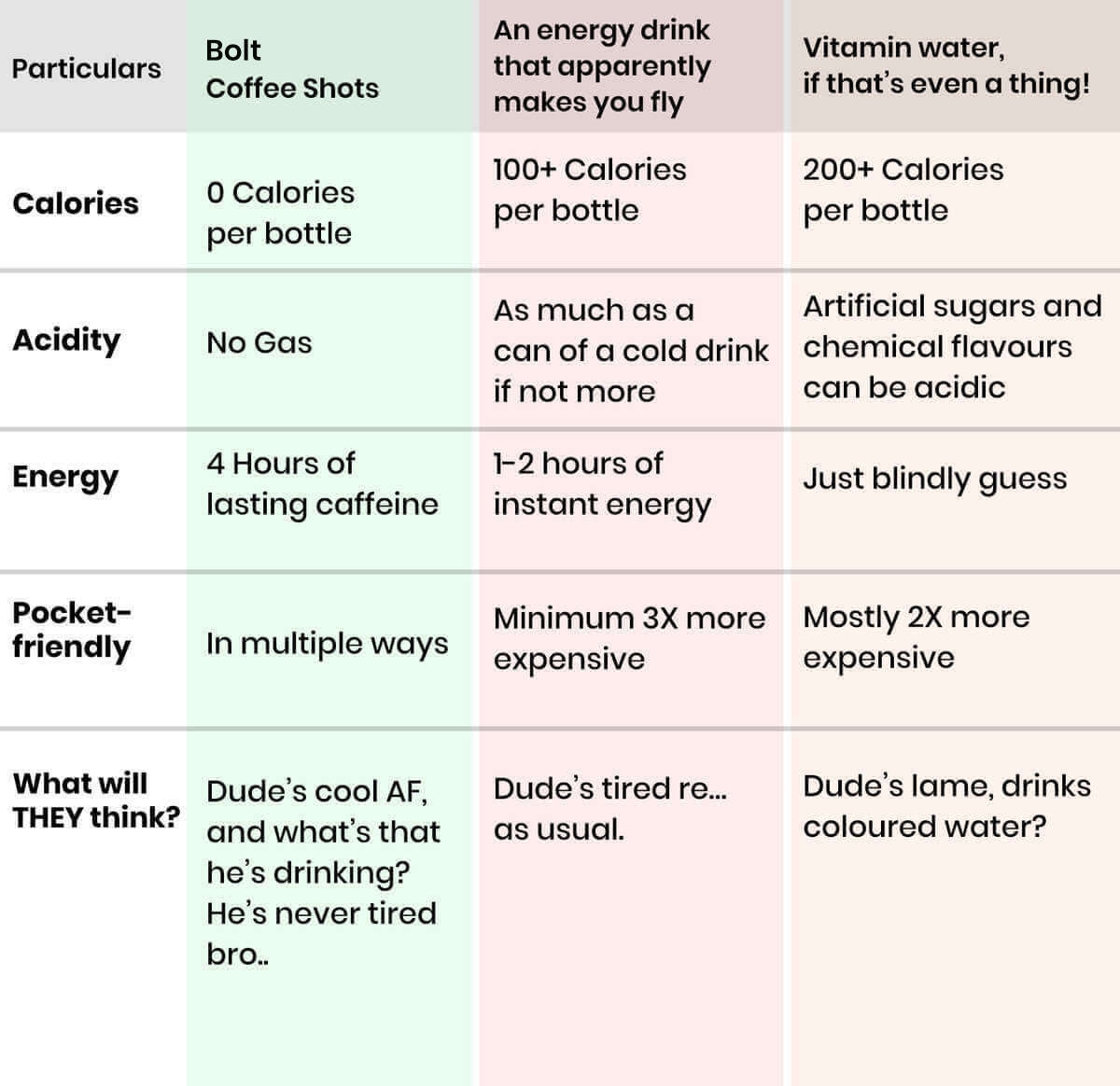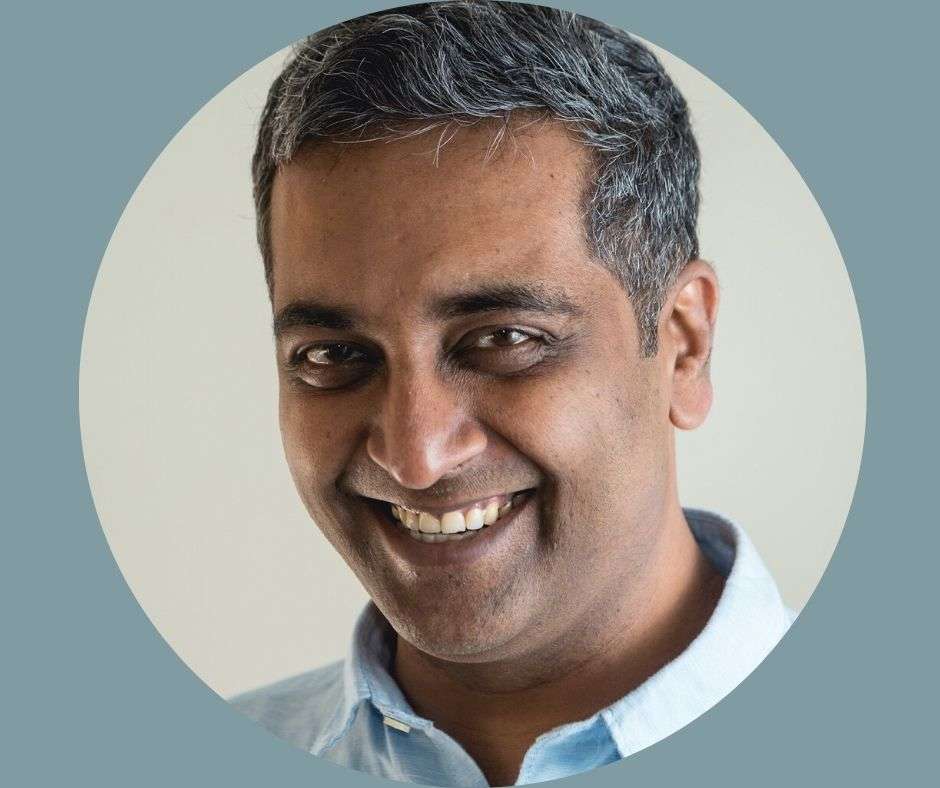 "These coffee shots are amazing. The flavours are awesome. I drink 2 shots daily and it has become a part of my daily routine. One shot in the morning before my gym and one in the afternoon. It helps me push myself harder at the gym and at work. Long story short, just awesome product for extra focus and energy on demand."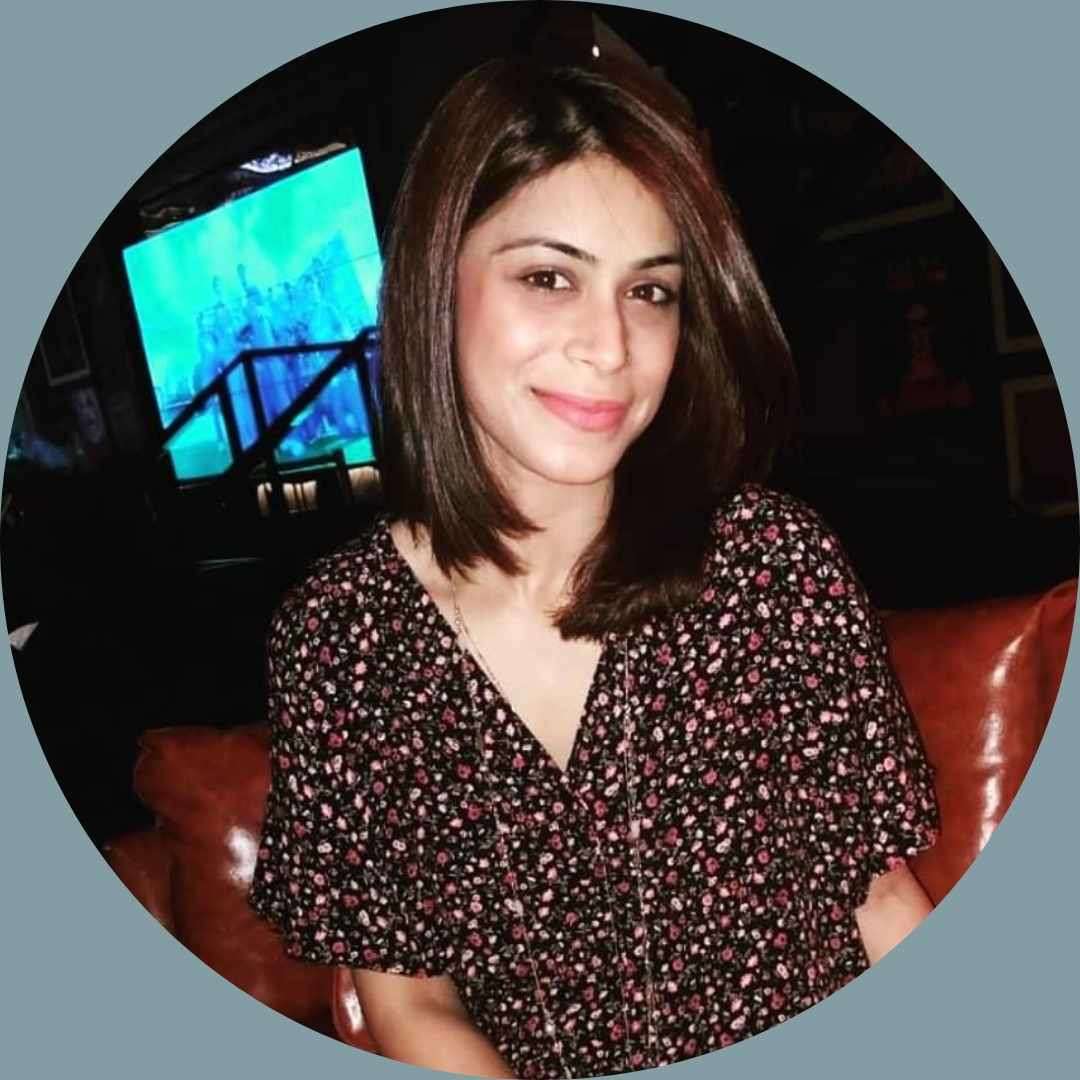 What can I say, there is so much to it , it's my first coffee shot early in the morning as it opens my eyes, my body and my mind in just few minutes. The kind of energy you get from this small bottle, you can't get through your black coffee.
Gives me tons of energy as I'm an athlete and I run continuously for 1hr 30 mins non stop and hey it's also good for weight loss !!!
thank you for introducing yourself to us !!! Cheers !!!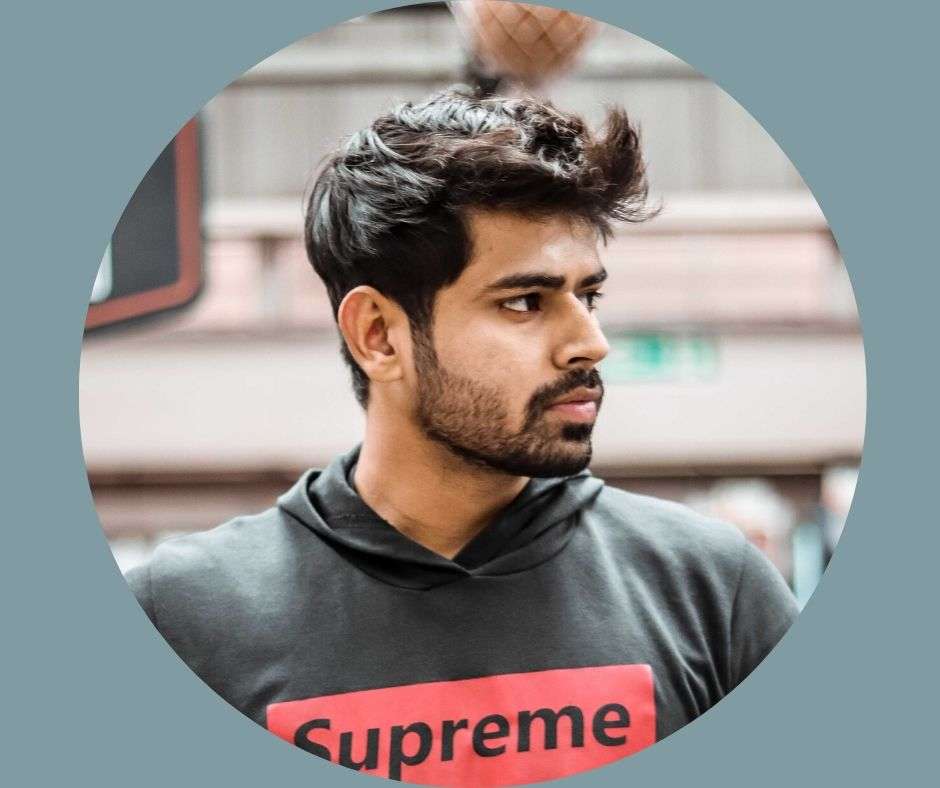 "Man....I love your coffee! It's replaced my need to head to a cafe for a couple of espresso shots! They are so handy. I pack a few in my bag whenever I leave for work. It is so different from regular office coffee and so refreshing."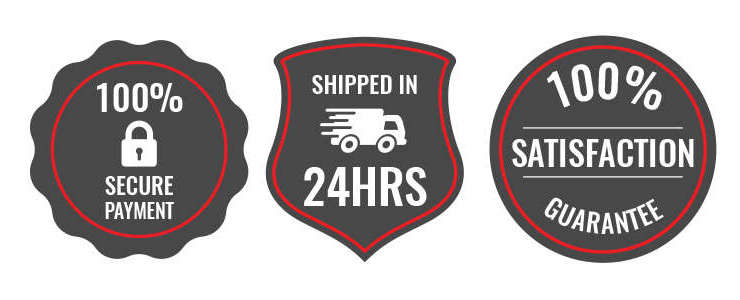 Call or WhatsApp Us On 8367200200